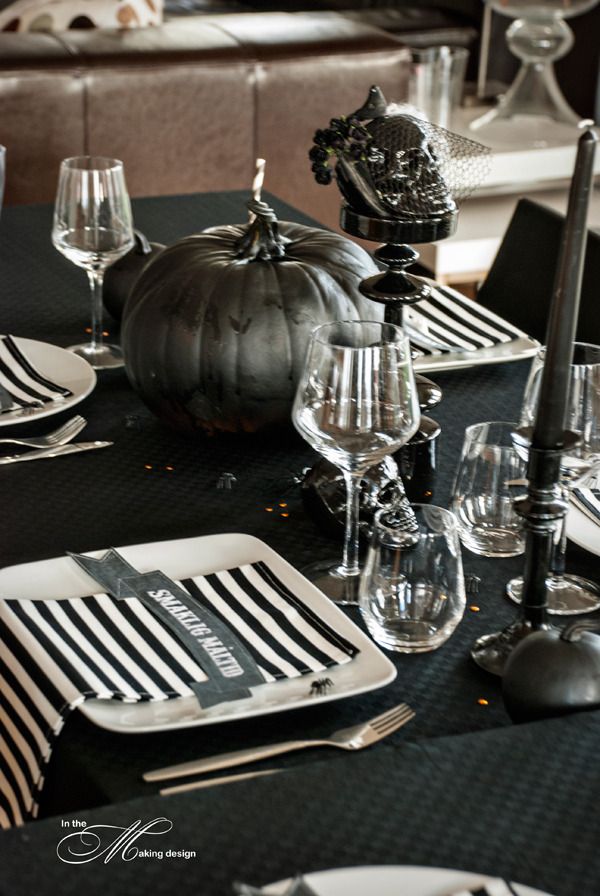 The husband is a big fan of having parties on (or around) his birthday. He turned 38 the other day and yesterday we had the parents and siblings over for a nice little dinner party.
I decided early on that it would be fun to do a halloweenish theme. Partly due to a gorgeous picture on
Pinterest
that had me super jazzed, and partly because I already had a couple of decorations from the
rock party
that the husband threw for his friends a while ago.
I wanted a halloween kind of theme carried out in a more sophisticated and adult fashion. I wanted black and white. I wanted pumpkins and skulls.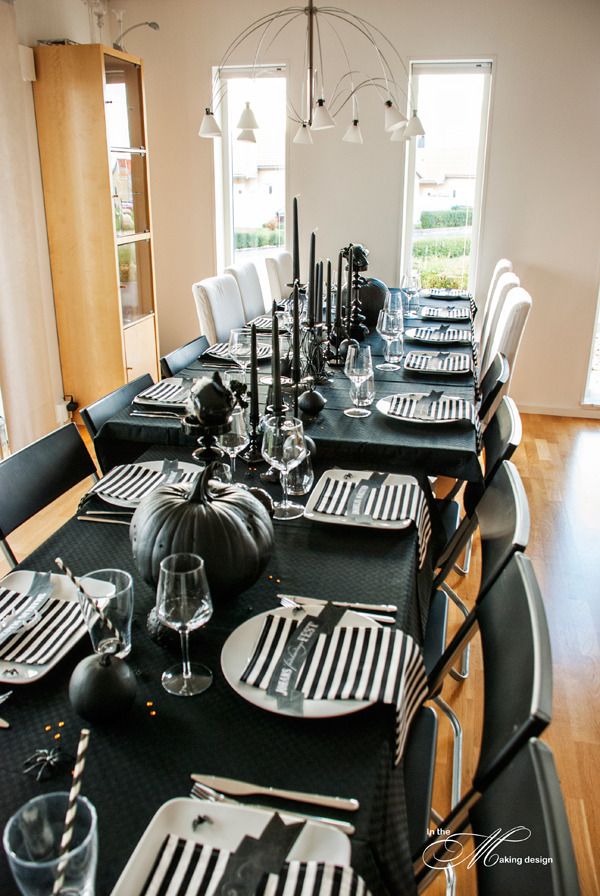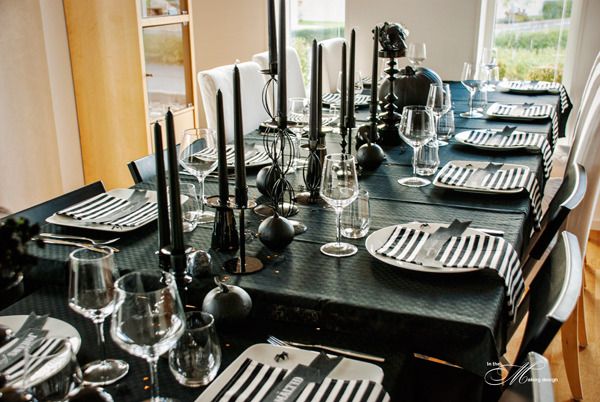 I used sleek black table linen in a checkered pattern with the black and white napkins that were made for
my sister's wedding
this summer. I used our everyday, but very much loved, white china and altered round and square plates. Red and white wine stemware were also altered to give the guests an option with regards to beverage.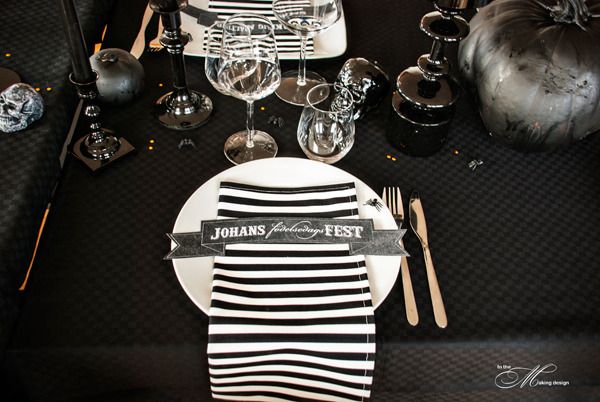 Each place setting had a paper banner with a message alternating three different sentences. A small plastic spider was also placed on each plate.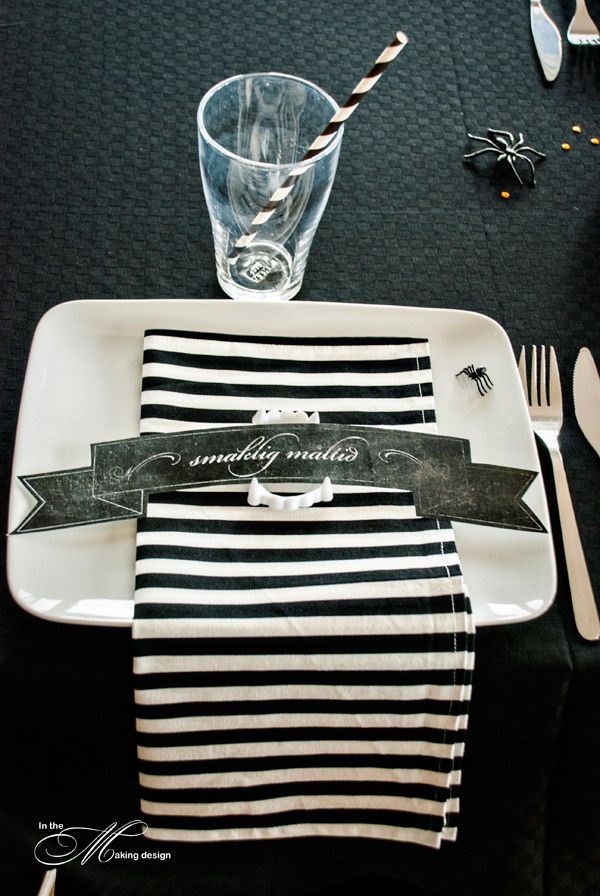 We had a few children attend as well and they got a set of plastic vampire teeth to have fun with. Of course, even the straws matched the decor.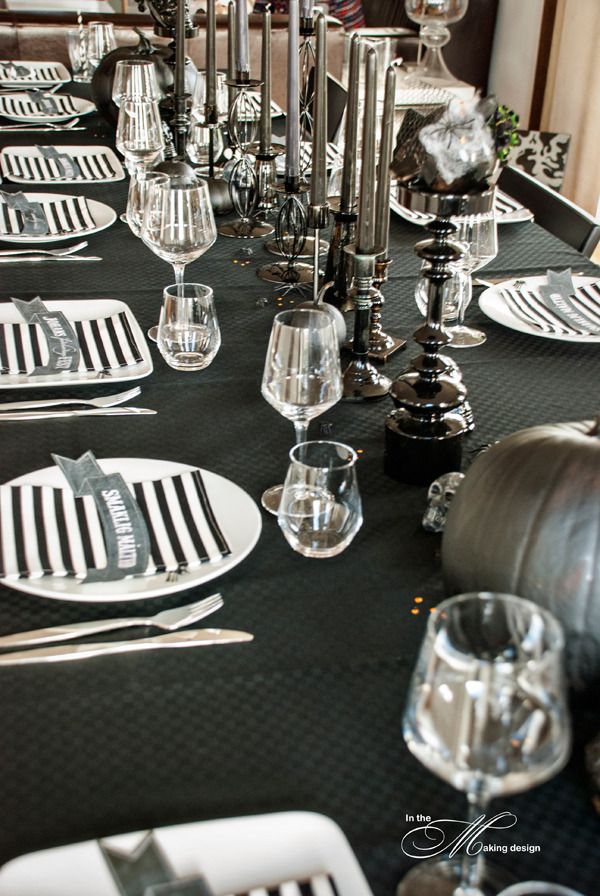 I used candle holders, picked up at a flea market, spraypainted in a high gloss black with black candles, and pumpkins, spraypainted in a matt black, down the centre of the table and scattered plastic spiders and orange beads around them.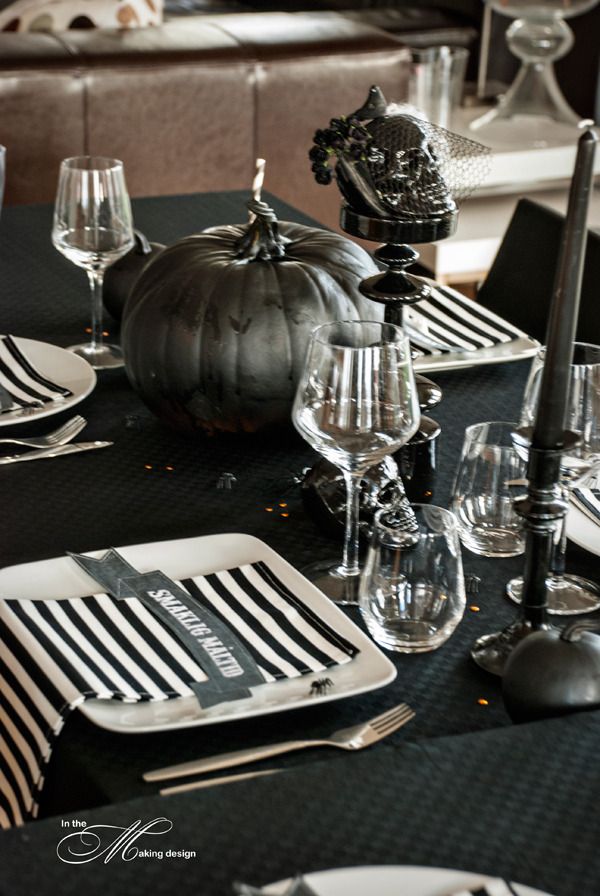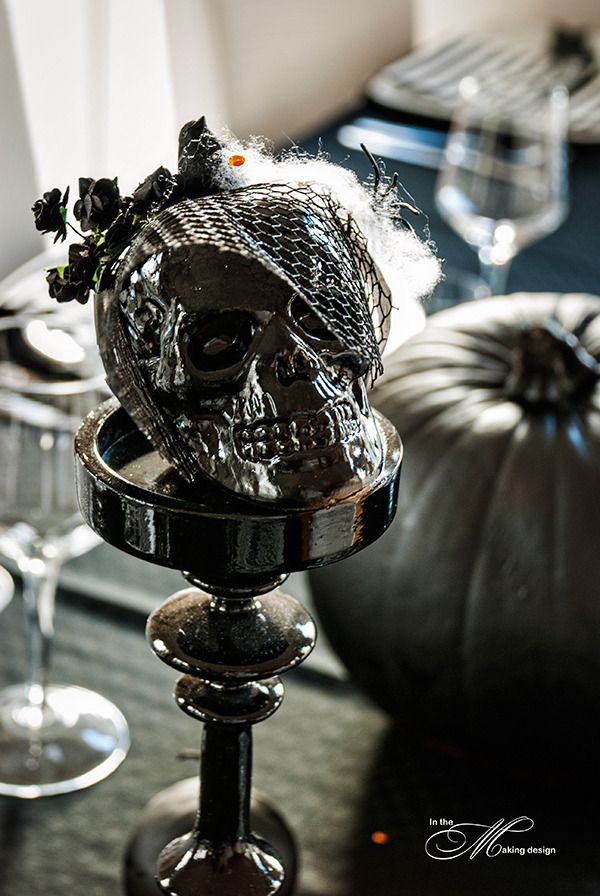 I had four skulls, also spraypainted in a high gloss black and decorated two of them to make them look just a little more scary and moody. I had to do a lot of hacking up and destructing to make this work. The veil was a piece of metal netting that I spraypainted and then cut to size. The flowers were tiny little scrapbook accessories that I stemmed and put together, the "ravens" were a pair of wedding doves that I cut apart and painted black. Hey a girl's gotta do what a girl's gotta do to get it right!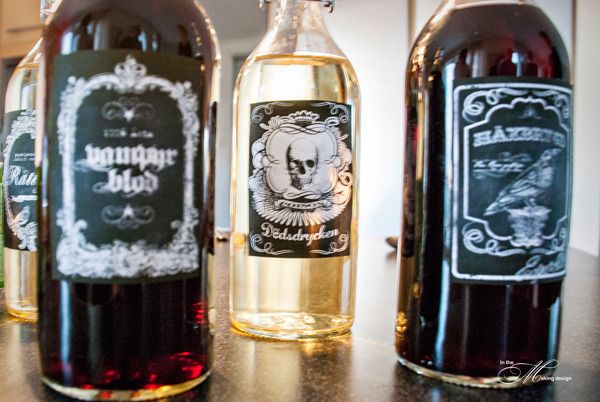 I also created some bottle labels, with parts from
The Chillingsworth Manor Kit
by Echo Park that I put on some bottles from IKEA. These were a big hit with the guests. The labels said; "Rat poison", "Vampire Blood", "The drink of death", and "Witches' brew". Hee!
I have no pictures what so ever of any of the food, including the super delicious frozen Tiramisu that I made. I was just too busy playing hostess. You will just have to take my word for it when I say it was all fabulous.
I think I am pretty much done with throwing parties now until Christmas and New Years roll around. Better get my rest on, as it's drawing near!