Let me tell you a story. It's about a girl who took a few classes online and found a new way of expressing her creativity. One day she got the amazing opportunity to not just use that creativity for her own pleasure but also share it with the world. From this opportunity a dream was formed. A dream to maybe one day being able to create all the time, every day. It was a beautiful, shiny, and colourful dream.
The only thing was that the girl was growing increasingly run down from not only working on that dream of hers, but also holding up a steady job, a demanding one at that, and trying to be a good wife, daughter, sister, friend, and not the least healthy person. There weren't enough hours in the day or energy in her body to juggle it all. The girl was starting to lose sleep, to forget things - both big and little things - and to show signs of several physical problems related to severe stress syndrome.
The girl faced a tough choice; to power on and hope for the best or to make changes. Changes that would make her function better in her day to day world, to be a better person to her loved ones, and to be able to get up in the morning without having to rely on pain killers and medication to get through the day. Changes that would mean that her dream had to die.
Facing the fact she was just a simple girl with a dream bigger than her mind and body could handle was very difficult and needed many tears and long talks with her husband. But in the end, she understood it was for the best and she did it. She made the changes.
That girl, she was me. I was the one who had a dream of designing. I was the one who a couple of months ago said enough. I stopped designing and slowly started on my road to recovery. After six months of taking care of myself, and getting back to just expressing my creativity for fun when I have the time and energy for it, I know that even though it breaks my heart it was the right decision.
So, it is with very heavy heart that I am now closing my shop at JessicaSprague.com. From today and a week forward everything in my shop will be 50% off. After that all my designs will be gone for good. If there is anything in my shop that you like but haven't already bought, now is the time!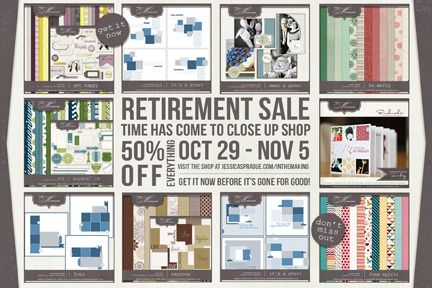 Please come over and visit my shop at
JessicaSprague.com
!
I want to thank each and every one of you for your support and encouragement in the past couple of years. For all the shout outs, the emails, the comments, and the praise I want to thank you from the bottom of my heart. And to all those of you who bought my products - I will forever be grateful for your business. You all have my eternal love!
I hope you will all continue to come over and visit me here on my blog. I will continue to scrapbook, take photographs, create books, and throw over the top parties. And who knows, maybe there will be another adventure waiting for me around the corner?
All my love
Linda