Sometimes I wonder what really goes on inside my head. Sometimes I start things on a whim without thinking all too much about what it really involves as far as workload is concerned.
The other day I had a few hours of downtime and instead of just sitting back, enjoying my free time, what do I do? Oh, I start another huge project of course. I got this idea that I could make the album I've been meaning to do with the photos from our trip to Rome in September. As if I could make a whole album, from about two million photos, in two hours!
But high marks for ambition, right?
Now this album is going to take a while. So far I've done twelve pages (six spreads) and I haven't even finished the photos from the first day! But I am so in love with the layouts that I just can't hold off sharing them. This is going to be one great book. Of course, what else is to be expected with photos from Rome?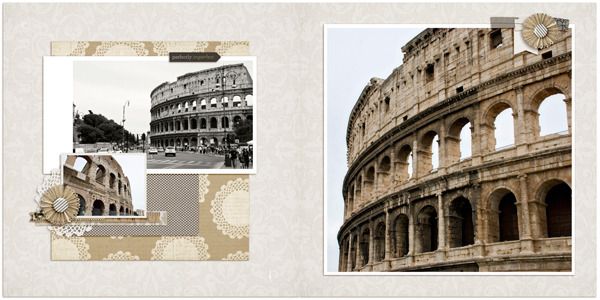 (Supplies: Create a Book Posted Collection (modified) by Katie Pertiet, Worn Kit by One Little Bird and Sahlin Studio)
As you can see, there is no journaling at all. I had to make a decision to exclude it in order to cope with even thinking about finishing this album. That might be a decision I will regret in 25 years, but at the moment I figure it's better to have at least have the album with the photos. I think I will add captions with restaurants and such though, as they aren't as permanent as the famous sights after all.
I will probably share more layouts as I finish them so please have patience with me here!