Oh you know all my weekly photos are going to be about Christmas when December finally rolls around. I know it's taking the easy way out, and I'm not exactly known for cutting corners, but I'm so close to burn out with this project right now that I will take anything I can get.
But before the latest, let's do a make up for week 46 that I missed.
It's the husband's favourite guitar. It's quite pretty and shiny. It's always in our house so it would be feasible for me to have taken it that week. So it will have to do.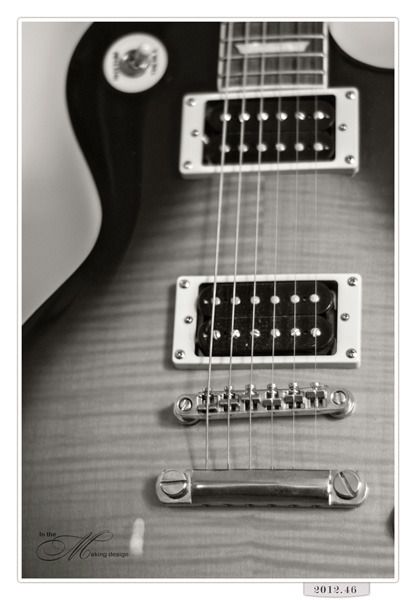 Alright, last week we finally got the wreath up on the door. We have a wreath to please me. The decor of the wreath is to please the husband; blue and black baubles with the Inter Milano logo (it's a football, or soccer for you Americans, team).
I started wrapping the gifts the other day. It's going slowly forward. I have a sprained neck and basically doing anything where I need to lift my arms or turn my head is problematic. But I have a super busy week ahead of me and I know that I need to get them done as fast as possible to even have gifts to give when Christmas rolls around.
For the record, I have no idea why the ribbon and washi on the gift in the background have such ugly colours. They are the same red as the red in the front gift. Nikon, you jerking me around here? Or is that you Adobe? Hee!