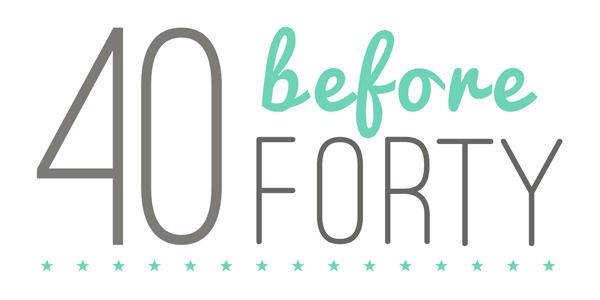 I had this idea shortly before the husband's 38th birthday that it would be cool to make a list of things we would like to do before our 40th birthday in two years.
I had a similar project last year where I did one new thing every week, ranging from large to small. It was difficult to come up with
52 new things
and I ended up skipping a few weeks.
But the idea this time was that we should share the list of things, and that we had roughly two years to complete them, going by the husband's birthday rather than mine as I am a few months older than him thus giving us a little more time.
It took longer than expected to find 40 good things to put on the list. That was mostly because I initially thought we should have as much of an equal balance on the list of who it was to complete the thing. It turned out that I had a significantly larger bucket list than the husband. Seems, judging by that, that he is a more complete person than I am needing much less evolving, LOL! So in the end I had to give up that thought, stop pestering the husband to come up with stuff, and just get that list ready.
So how do I plan to follow up on this? Well, first of all I don't want to put pressure on myself to post about it every week, mostly because stuff might not happen for long periods. Also, because some of the things don't work well as a photo op and therefore won't be all that entertaining to read about. But I do think I want to make an album about it. Obviously it will be ongoing for quite some time but that doesn't bother me much as long as I can finish it at the end of the (a little less than) two years. I did realize that we might not actually get through all of them – life does throw you for some loops at times after all – but that doesn't bother me either. And that thing about lack of photo op; even if there isn't a photo for every item on the list, I can still document it with words and perhaps other images and elements.
I contemplated for a while to try the Project Life format for this book. It would be easy to keep one page for each item, and the execution of each page would be super easy. In addition to that there would be guaranteed journaling space for each completed thing. The only problem? I really don't feel like the Project Life format fits my style of scrapbooking. First of all, I despise plastic page protectors. Am I outing myself here? And even if I do it digitally, I want layers, I want stacked, I want white space. So no, the format itself is discarded. I love the idea of using journaling cards though, and thankfully there is no lack of those products out there on the Interwebs. I am quite sure I want to stick to one single theme and colour scheme for all the 40 things. It's too much for my OCD tendencies to be free flowing when it comes to a contained project like this.
I decided to do an opening page with some thoughts about the project and the full list.
So, what type of things are we talking about then? Well, I am not going to post the whole list here in a blog post, but they range from things like going to a chocolate tasting at a small local chocolate factory to me taking my driver's license, to learning In Design, to both of us getting new tattoos, to changing out the photo wall in the hall way. Told you it ranges from large to small! I'm happy to say that a few things have been planned – like seeing Robbie Williams in concert (OH MY GOOOD, I am so excited).

A few have been started, like eating at eight new (to us) restaurants, and one has been finished. Which one, you might ask? This one: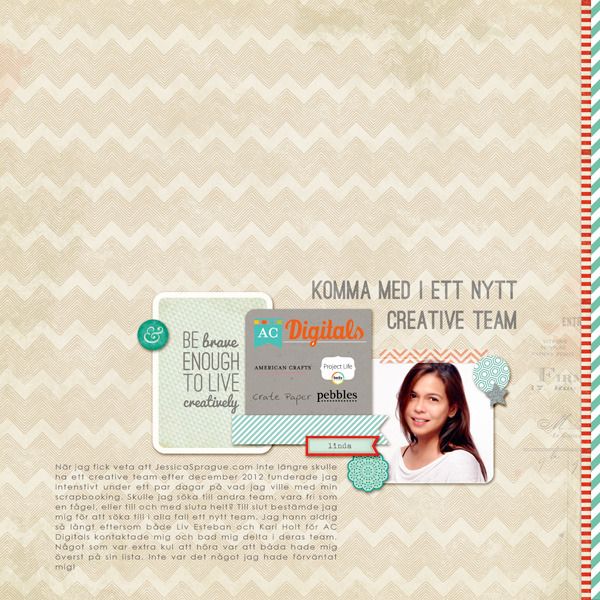 The thing was, as you might have guessed from the layout, to join a new creative team. I am so proud to be able to say that I will be working with the beautiful products of Liv.e Designs and AC Digitals in 2013.
So with that, I have officially started a new long project for myself. In the light of my recent feelings towards Project 52 I am dreading it at the same time as I am excited! I will be back every now and then with updates on how we're getting on.