One thing that I really love about being a member of several creative teams (you can see me proudly stating that in the sidebar over to the right) is that I get to be challenged each week to continually widen my creativity. It definitely keeps me on my toes to create for designers whose products range from super clean and modern (like Karla Dudley at Pixels & Co), to shabby modern (like Crate Paper at AC Digitals), to grungy and earthy (like Liv.e Desings).
I won't say it all comes naturally to me. Not all layouts flow out of my brain in a matter of minutes. No, some of them really makes me work hard to find exactly what I am looking for. Some of them find me staring at the screen for hours, moving things around or playing with colours and blending modes.
In the end though, despite perfectionism rearing its' ugly head every now and then, I still come away so very happy that I get to do this. I am so proud and honoured that someone thought what I bring to the table is worth sharing, worth inspiring others with.
And after all these words, I want to share with you a layout that was just that challenging to create as I described but I feel came out beautifully in the end. I like how the whole layout is soft and mellow, and then the roses pop out like a burst of colour.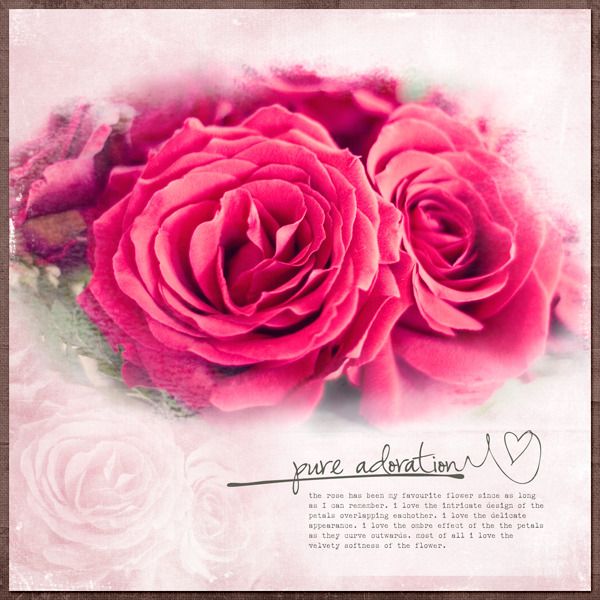 (Supplies: T+Mini Vol. 2 Adoration by Liv.e Designs)
I have had trouble sleeping for the longest time. It's a major deal for me, because I feel like a walking dead most of the time. I know I would do better if I could improve on my sleeping, or at least just be able to fall asleep faster. It's been on my mind for a while, and so I thought I'd create a layout about it.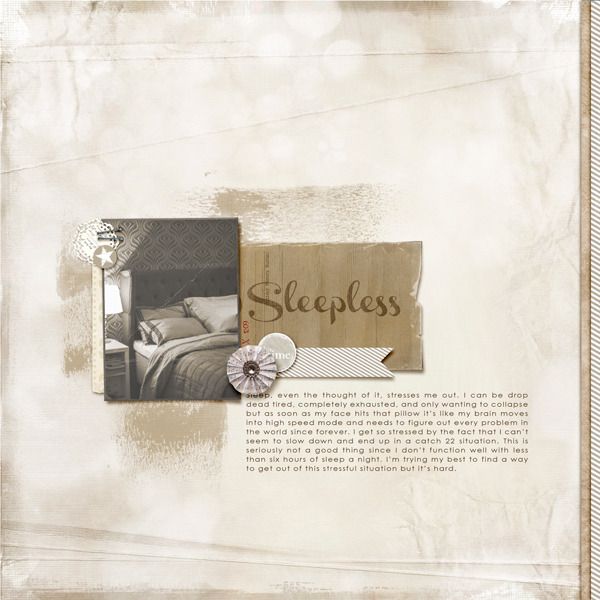 (Supplies: Roll Over Rub On & Brush Set, Creasers Vol. 1, This & That Sticker Pack, T+Mini Vol. 1 Filmed, Texture Magic, Holidays in Hand freebie all by Liv.e Designs, Note To Self Kit by Echo Park, Mistletoe Magic by Design by Dani)
The P52 photo for last week, the one I posted the other day, was a total fluke. I happened to look out the window and saw the glistening frost. It was a beautiful sight, and the shot turned out alright. But then my dear friend Liv's beautiful new bokeh overlays helped it to be even better. Here's a side by side comparison with and without one of the overlays.
(Supplies: Bokeh Magic Action & Textures by Liv.e Designs)
See how the subtle bokeh in the upper corner of the photo adds that extra oomph? See how it makes the glistening white even more glistening and white? See how it works so well with the original little sun spots? Don't you just love it? I adore it!
You can pick up Liv.e Design's beautiful new products; the
Bokeh Magic Action and Textures
, the
Roll Over Brushes
,
T+Mini Vol. 2 Adoration
template and mini kit today at
JessicaSprague.com
.