My sister, who lives in Italy, had a birthday this week and I wanted to make a little something extra with the packaging of her gift (that was sent with our mother on a plane to visit the girl) since I couldn't see her.
The gift was small but fragile and so it was perfect with a decorated box to hold the stuff.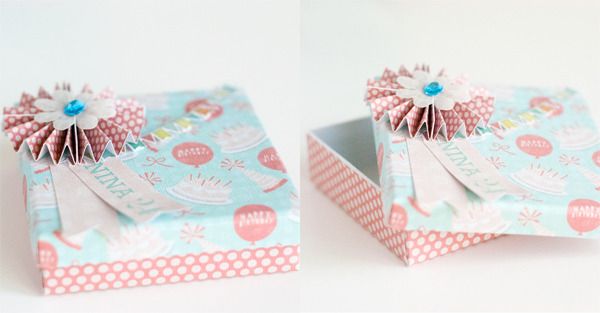 (Supplies: It's My Party by Robyn Meierotto at Pixels & Co, fabric flower and aqua gem from my craft stash, cardboard box, double sided tape)
Since I wanted the box to be extra sturdy I decided against making it out of just cardstock and instead get a thick cardboard box from our local craft store.
I made a print file with the paper for the top and bottom of the box. I made shapes in the right sizes for each side of the box, including the foldover flaps and clipped the digi paper by Robyn to the shapes. This made it very easy for me to print, cut, and then just attach to the box and fold over.
I also made shapes for the banners and rosette to which I also clipped the papers to and printed. Lastly I also printed the flags and cut out as best I could - I do not have a cutting machine and it was difficult to cut such small shapes perfectly.
I think the finished box is super sweet and festive. I am so happy with the finished result.
Question: would anyone be interested in a tutorial on how to cover a cardboard box with printed digi products? I would be happy to put one together and share here!