Last week was a tough one for me. I had a ton of stuff happening all at once at work and that, coupled with many deadlines outside of work, meant I was a bit of a mess when I got home on Friday night. Thankfully there was something, besides my wonderful husband and a glass of wine, to help me regain some strength - fresh springy flowers. This layout is all about that.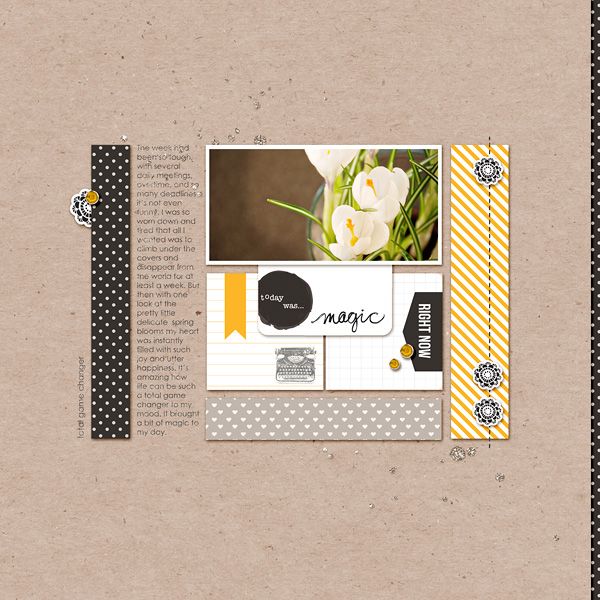 (Supplies: Becky Higgins Project Life Midnight Edition by Liz Tamanaha, Crate Paper Storyteller, American Crafts Amy Tangerine, American Crafts Amy Tangerine Sketchbook all from AC Digitals, Fairytale Kit by Paislee Press at The Lilypad, Rock the Blocks Template by Crystal Livesay at Pixels & Co)
So I want to talk a little about the Project Life kit I used here. I will never be a Project Lifer. Part of that is because the Project Life system layout set up doesn't appeal to my design sense, but mostly because my life is very repetetive with work, cleaning, computer time, sleep, and some food thrown into that. I know my pages would be very similar week after week. In addition I also don't think I need to document in that chronological way. For me it's more important to capture feelings, thoughts, and ideas rather than to recapitulate my life moment by moment.
But that does not mean, however, that the gorgeousness of all the Project Life related designs out there right now are not for me. Journaling cards can be used in many different ways to spice up a "regular" digi layout.
In the layout above I used three different cards from the stunning
Becky Higgins Project Life Midnight Edition by Liz Tamanaha
, which is available at
AC Digitals
today, as well as three of the papers from the same kit for the main parts of the layout. I simply used clipping masks for the cards like I would for any paper.
Do you want more inspiration on how to use journaling cards for your layouts? Check out my previous post:
Using journaling cards with inspirational sayings
.
Also, check back tomorrow for more inspiration - this time in hybrid form!