I have three layouts to share today that all celebrate good things in my life. I figure one needs to grab hold of good things in life and savor them. They bring energy to get through the not so fabulous moments.
I try not to drink too much soda, I usually have a glass of Coke Zero a day. But then there are days when more than that is needed. Those are the days when I get a can during my lunch break and enjoy it at my desk. It is a life saver - or at least a burst of energy.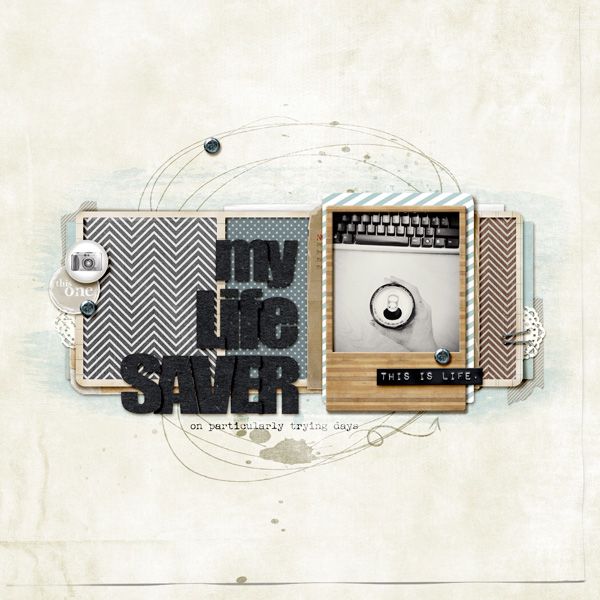 (Supplies: Paintbox Vol. 1, T+Mini Vol 4 So Blessed, Shabby Chevs Paper Pack, Splatters Vol 1, Loopies Vol 4, Photo Stories Everyday Pebbles, Photo Stories Dymo Labels, Photo Stories Washi Tapes, Photo Stories Krafty Papers, This & That Stickers Pack, Texture Magic, Winter Breeze all by Liv.e Designs, Note To Self Kit and For the Record Documented by Echo Park)
Quiet moments at the beach, a warm breeze, beautiful rays of sun. How can this not be wonderful?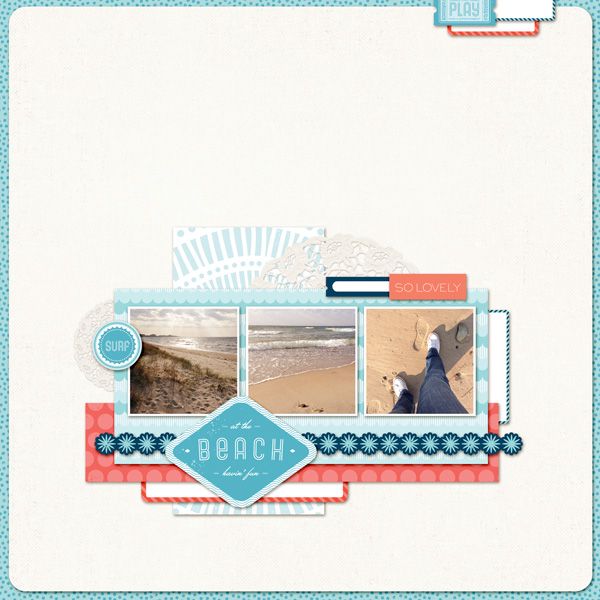 (Supplies: American Crafts Shoreline at AC Digitals, Hello Love by Mye De Leon)
Ah, Friday nights in the summer. A nice glass of wine on the patio, some music, and the husband beside me. Those are some of my very favourite moments.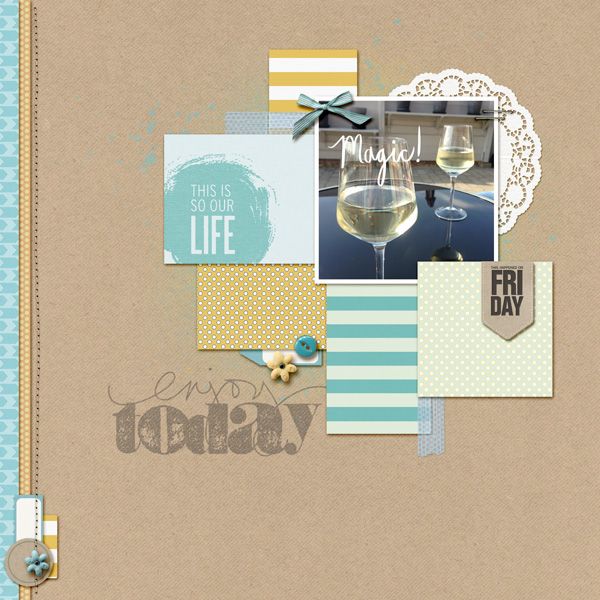 (Supplies: Photo Clusters, Photo Tabs, Ink Spots, Wanderlust Cardstock, Homebody by Wild Blueberry Ink, Kraft Essentials, Butterfly, Life 365 Stamp Sheet by Karla Dudley, Carefree Full Kit by Dawn by Design, In Stitches Neutral Basics, Krafty Labels by Robyn Meierotto, Let's Go Elements by Scotty Girl Design, Silver Lining Part 3 by Gennifer Bursett)
I'm not a chronological scrapper. I don't feel like telling my life story in a diary kind of way would be neither inspiring nor very good. Least of all would there be any variation. I find that telling my life story by picking moments, stories, and photos that strike an emotion in me is much more interesting. Hopefully I will be able to look back at all my pages when I am old and see that my life was full of good things, bad things, funny things, sad things, amazing moments, dull moments, delicious moments, and disastrous moments. Do you scrap favourite moments, just because, or are you a chronological scrapper?