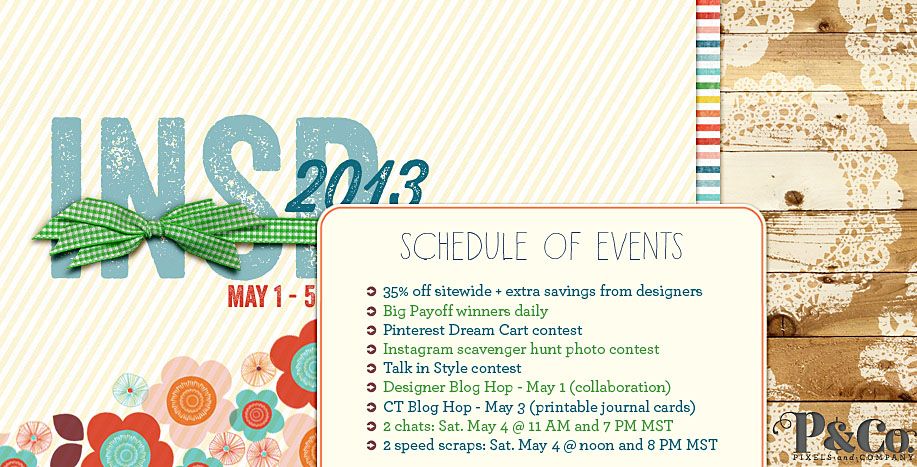 Hello and welcome to stop number 17 of the Pixels & Co iNSD Creative Team Blog Hop!
If you are participating in the hop you have come from
Jennifer
.
In case you came to this blog first, and would like to participate, then please go to
the Pixels&Co blog
to get a fresh start!
I am so excited to be part of the blog hop today! You will be rewarded greatly for participating that is for sure. You will get a huuuuuge kit of absolutely beautiful journaling cards (59 cards included) created by the CT using the gorgeous
More Or Less Collaboration
by the über talented Pixels & Co designers.
But before we get to that, I want to share with you more eye candy from Pixels & Co. These four kits are among my very favourites and get used over and over in my layouts.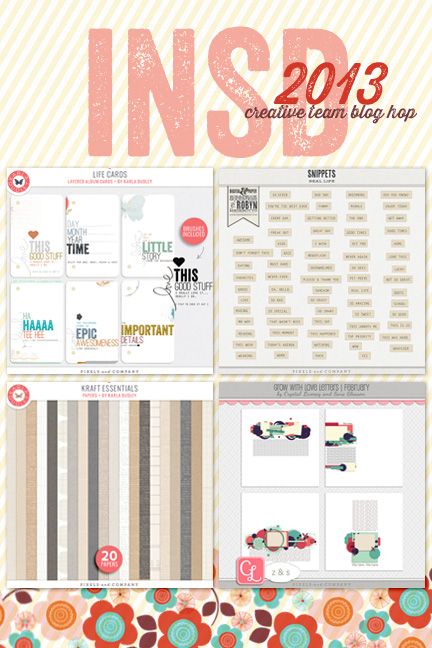 Life Cards by Karla Dudley
is just beyond gorgeous. Not only are the cards themselves fab, Karla has also included brushes of the wordart that is featured in the cards. Amazing.
Here is a layout that I have created with this kit:
Important Details
Snippets Real Life by Robyn Meierotto
are just super fun. Robyn has included som really funny words and expressions. These snippets are perfect for adding that little extra spunk to the layout.
I used the snippets in this layout:
Epic Awesomeness
Kraft Essentials by Karla Dudley
is my favourite go to paper pack. I looooove neutral papers. I love kraft. Karla's papers have just the right texture and pattern, and the tones of the papers are spot on.
Here is one of my layouts with Karla's papers:
Life-I love you
Grow With Love Letters February Templates by Crystal Livesay
is so versatile. I think I have used these templates in a million different ways. Ok, so maybe not but a whole bunch at least. I love that there is so much white space but still plenty of yummy layers to put fun stuff on.
I created this layout with one of the templates in the kit:
Good Stuff
You really want to check these out, and especially now as every single product at Pixels & Co is
35% off to celebrate iNSD
!
OK, so let us get right to the prize you are after! It's gorgeous! Just look!
In order to get your hands on it, you need to visit every blog of the hop. At each stop you want to collect a letter or number that will form a word. This word is the coupon code that you need to enter in order to get the kit. Now, to be sure that you have gathered all the letters and numbers you need to visit the blogs in the right order. I have added the whole list at the bottom of this post in case you feel a little lost.
Once you have all your letters and numbers, you will want to go
HERE
to download your kit.
This is the
letter
that you want to write down from this stop:
O
The next stop on this blog hop is
Christy
. Tell her I said hi when you get there!
Now, don't miss out the fun things over on the site tomorrow! We have both chats and speed scraps scheduled. You can see the times in the image at the very top! Come and join in the fun!
Be well everyone!
This is the full bloghop list:
Pixels & Co Blog
Sarah
Kat
Mandi
Kate
Rachel
Anna
Jan
Carey
Emilie
Ronnie
Amy
Jennifer H.
Celeste
Melanie R.
Aria
Jennifer E.
Linda
<--- that's me
Christy
Barbara
Mary
Arielle
Jeryn
Indah
Melanie C.
Jen P.
Erin
Kelly
Kim
Wendy