Here we are again, with a new week of Project Life. I had the worst week in many years last week. Very dark, and filled with many tears. I haven't been doing well for a while, being very stressed, and it finally took its toll on me. Things will have to change around here if I want a shot at feeling better.
The big thing, apart from all the dark and bad stuff, was that I finally got to start my new tattoo. I figured that earned a right to a full page. It also took a little edge off the woe is me on the left side.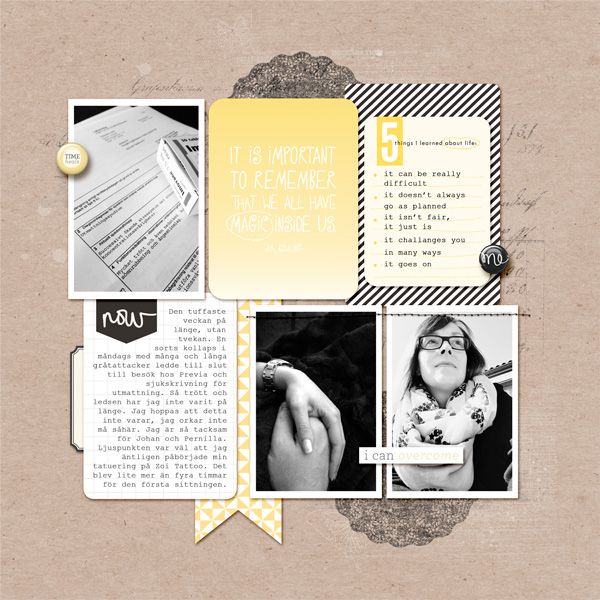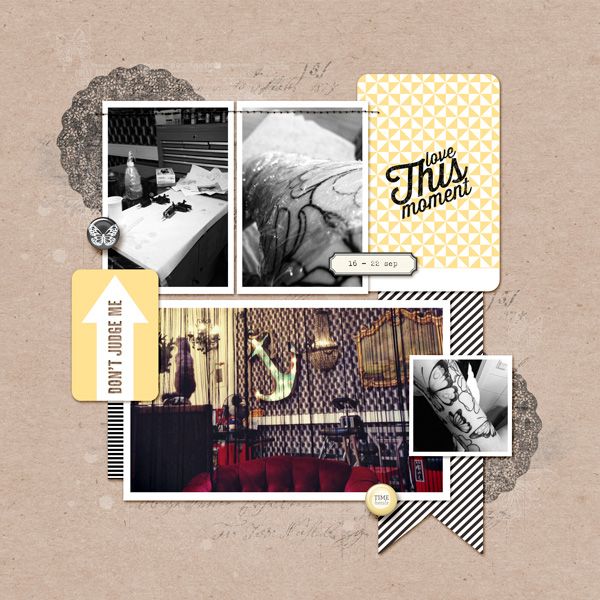 (Supplies: Becky Higgins Project Life Teen Girl, Becky Higgins Project Life Teen Boy, Becky Higgins Project Life Midnight, Butterfly kit by Karla Dudley, Digi Basics Smears Neutrals by Mye De Leon, In Stitches-Neutral Basics by Robyn Meierotto)
I find that most Project Life products out there are featuring wordart and images that concerns happy times. This is all good and well, but let's be honest here - who has a perfectly happy life 100% of the time? I think most people go through days that are a little less shiny and bright. For me, it is important to be brutally honest. After all, it's my life and my project. I need to include even tough times. That means using "happy" products in such a way that it still works. This week, I found it tricky. I had to work on the left side page off and on for several hours before I felt I could let it be. The upside to all this is that I'm quite certain that I will get lots more practice.
So, part of the changes that I need to make is spending less time in front of the computer. I was told by my doctor to do things that make me happy, but right now I can stand about 15 minutes before my brain feels like it is going to explode. That means that I will be making less digital art, and will also likely have less to share here. So if I end up being a little quiet for a while, you know why.