I am fortunate enough to be part of the Digital Project Life creative team. That, of course, means that I have access to all the gorgeous editions, theme packs, and mini kits that are available for Project Life. Because of this I have been able to choose from a wide range of cards to fit my specific needs each week. I thought I'd share some thoughts on mixing cards from different kits here on the blog today.
I really love graphic patterns. I think they are the perfect way to add punch to a page when you have a (somewhat) minimalistic style. So with this in mind, I have chosen black and white graphic pattern cards to carry through in all of my Project Life pages. Together with a neutral background of course. Because how many pages have you seen me make with anything but a neutral background? LOL!
There are a few Project Life editions that have fantastic cards for my graphic B/W needs. I think you might recognise them. I use them every week!
Midnight
The beautiful filler cards with great graphic patterns work perfectly as background cards or for clipping to shapes like my banners, and I love to use the journaling cards with smaller pattern elements that tie into the graphic theme. But it also has cards with super cute wordart and I use those to add that extra bit of fun and to play on a certain feeling, theme, or event. I love how they are cute without being cutesy. I don't do well with cutesy.
It's a Man's World
It's a Man's World is a newish kit, but that doesn't mean that I haven't already fallen in love with it. It has the same feel as Midnight, with Liz Tamanaha's impeccable style,and the two compliment eachother perfectly. It's a Man's World also has those fabulous graphic filler cards that I love to use for that sharpness on my pages. Even though this is supposed to be a "manly" kit - huh, does that make me manly - there are several wordart cards that fit any occasion. My favourite? The "Today was epic" card.
In addition to these two kits as my basis for Project Life I like to change it up. I have decided to stick with one colour scheme for each month, which means I get to use different kits to add my colour of choice, to add fun wordart, and to define a theme or event. I don't always use the whole card. Sometimes I cut parts out and stick it on a different card. Sometimes I also change the size, mostly smaller, so that I can fit more cards in on the page. The magic of digital!
This week I used three kits;
Seamfoam
, which by the way also has great graphic patterns, for the left side journaling card,
Jade
for the fun wordart cards on both sides, and
Blush
for the lovely speech bubble card and the heart paper on the banner.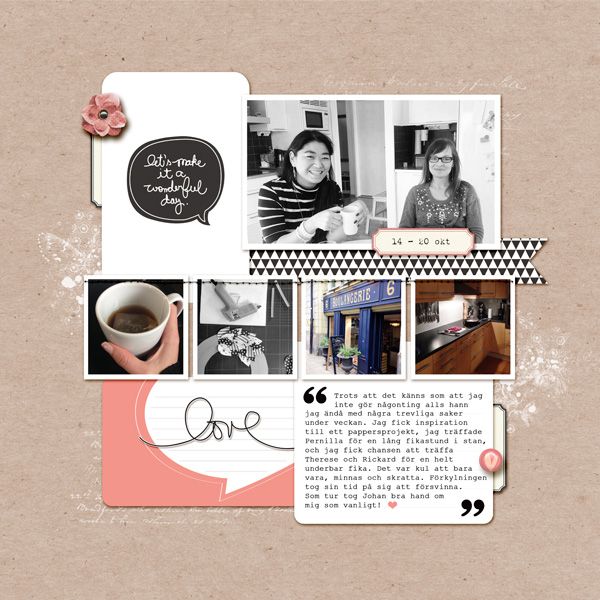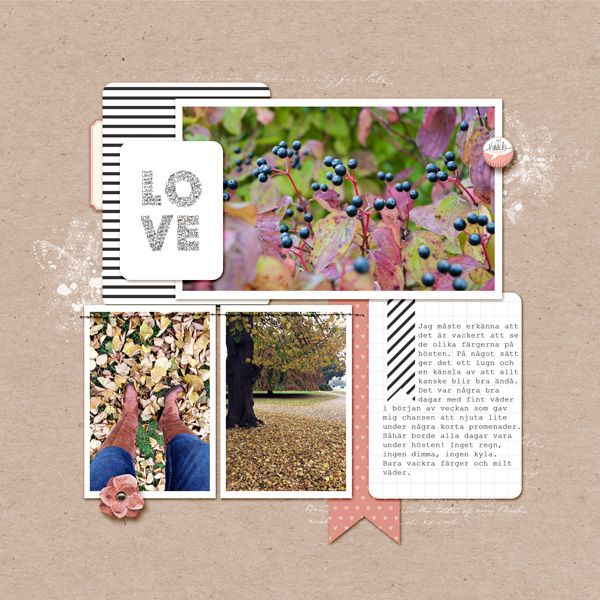 (Supplies: Becky Higgins Project Life Blush, Becky Higgins Project Life Midnight, Becky Higgins Project Life Seafoam, Becky Higgins Project Life It's A Man's World, Becky Higgins Project Life Jade, Life365 Buttons by Karla Dudley, In Stitches-Neutral Basics by Robyn Meierotto, Hombody by Shannon McNab, large photo on left page by my friend Richard Karlsson)
Now here is another thing that is wonderful about doing this digitally: it's entirely possible to modify the cards to fit perfectly. I do this. Like for example, in the wordart cards, the white wasn't entirely crisp white. So I changed that to avoid cream and white clashing. In addition, the pink in the Blush cards was a little too strong to fit my taste and photos. So I softened it. This way, I was able to use super cute cards that otherwise would be a little bit off.
So, in these two layouts I have used five different kits and in my opinion they could have all come from the same one single kit. Now isn't that just fabulous? This is pretty much standard for my Project Life pages. I feel that by mixing a few kits, even if it's only two, you really widen your choices considerably. That coupled with cutting things out and changing size and colour your possibilities are virtually endless.