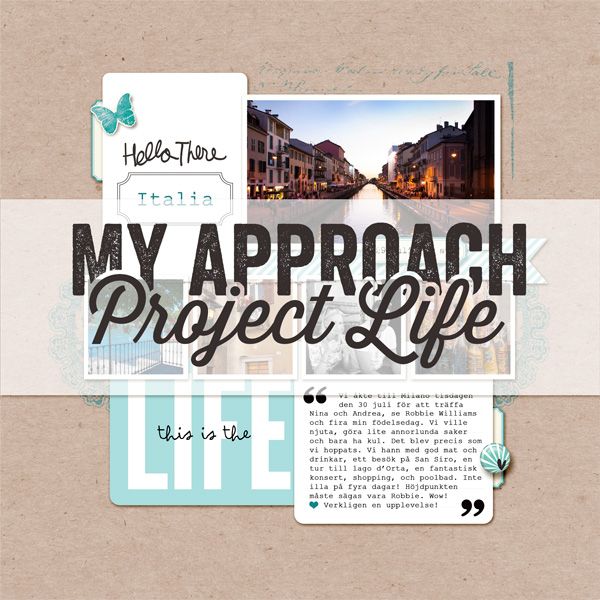 I have had a couple of questions lately on my process for Project Life, seeing as my pages are a little different from most PL pages. I have written a bit about my process before, which you can read about
here
,
here
, and
here,
but I thought I would show and talk a little more in depth about how I go about it (get yourself a drink, because this will be a long one).
Just a note: In this post I assume you have a basic knowledge of digital scrapbooking, like clipping masks, brushes, and workiing with layers, to fully understand everything I am talking about.
Templates
What I knew from the start was that I wanted something simple and sleek, with lots of white space, but still layered to look more like regular scrapbook pages than PL pages. That was what I had in mind when I started. So I made a couple of templates for myself right from the getgo that I use every week and only moderately change. These templates makes it easier for me to keep up, and to not have to spend more hours than I need to every week. Some of you have asked, no I don't have these templates for sale. If that changes in the future, I will let you guys know!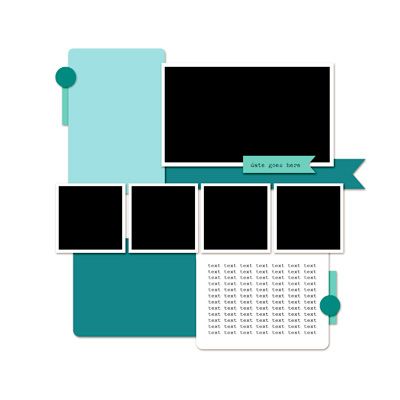 Here is what one of the templates look like (as it happens it was the one I used for the page above); as you can see they are very simple and basic.
With the templates ready it is easy for me to add, photos, cards and papers by just clipping them to the layers, or hiding the coloured shape layer and exchanging it with a card. The small circles and rectangles act as placeholders for the few elements I want to add. I hide those once I add my elements. Since I have aldready put in the text layer, all I have to do when I make my weekly page is highlight it and write my journaling. There's one way of making it easy on myself!
Photos and journaling
It is important to me to have the photographs as the main focal point, so I always have at least three or four photos on each page. With each week getting a spread (two pages) I have plenty of room for photographs - sometimes I feel too many!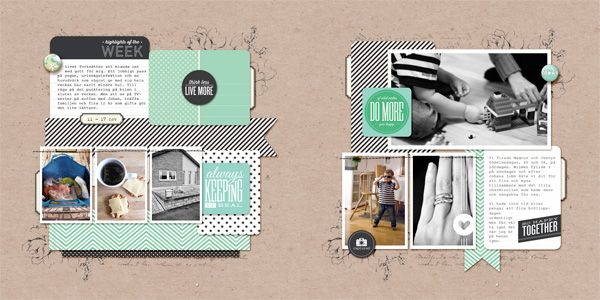 This was one week where I felt less was more!
I also make sure to have one spot for journaling on each page. I use PL cards for these spots but change the size up a bit from time to time. One spot on each page is enough for me as of right now. Maybe further down this year I will need more. If I do, it will be easy for me to use one of the spaces that I originally intended for filler cards.
I use different cards and papers to fill the rest of the 8x8 area of my 12x12 pages that I am using. I have a white stroke on all photos as a frame to make them stand out from the papers and cards. I mix rounded corner cards with square edge shapes to have some movement in the pages, and I try to include a banner on each spread to keep it consistent.
Cards, papers, and elements
I use only
Becky Higgins Digital Project Life
cards and papers, but then also add small elements like buttons and tags to make it more "real". Those are usually from
Pixels and Co
. The reason for this is that I CT for both of these sites. It makes it easier on me to use stuff that I already have. Also, I really love the stuff I use, which of course is super important.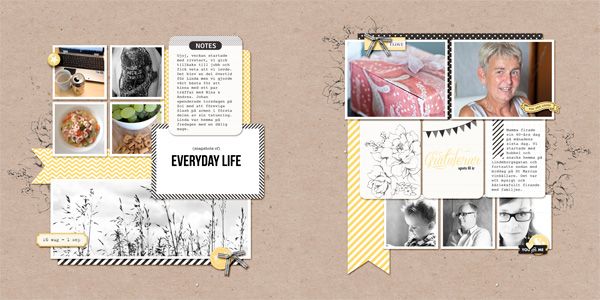 This week I embellished a little more than usual with ribbons and tags that matched the cards and papers.
I use the same tan background paper on all layouts (from the Midnight Collection), and I use black and white on all layouts as the basis of my design. Then I change the colour scheme each month to separate them from eachother. So following this idea I used teal for August, yellow for September, pink for October, Green for November, and red for December. I am aiming to use tan/cream for January. I love this idea, but I usually hate every particular colour at the end of each month. I know this makes it harder on myself but what can I say, I am an organisational nerd!
I tend to gravitate to graphic patterns as I think they are universal and go with pretty much everything. I find this particularly true for the black and white patterns. That is one way of making it more easy on myself and again, to keep the pages consistent throughout the album.
You may have noticed that I use brushes on the background every week to add some depth to the pages. These are mostly cut from cards, but also some that I have created myself as well as found as freebies on the internet at some point in time. I think they are important to the overall look of the page.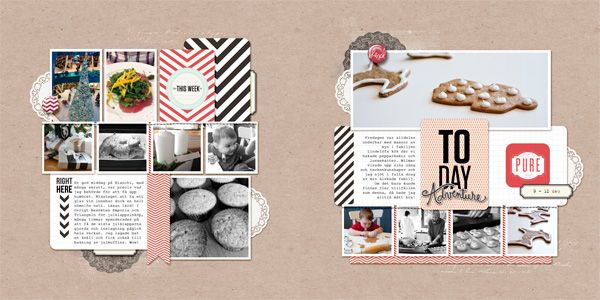 On these pages I have used both black and white brushes to add depth.
More
So that is my approach to creating my Project Life pages. If you want to read some more about my process I have a few more posts on different topics:
My approach to photographs
My approach to using multiple kits
My first two pages, and talking about my ideas for the project