I have had a few questions lately on how I create the white frames in my Project Life layouts, and I thought I would try to explain how easy it is to make these simple white frames. Really, don't ever buy a simple white frame! You can do it yourself in two minutes or less!
OK, so here is a Project Life layout just to remind us what the white frames look like.
Here's a screenshot of the layout zoomed in on my workspace in Photoshop. You can see the actual layout on the left and the layers palette on the right.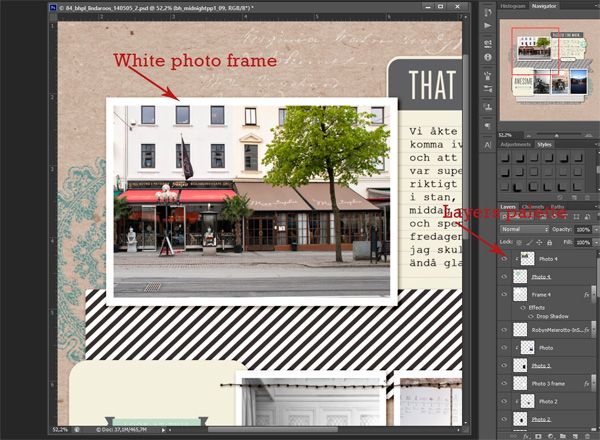 In the layers palette, you can see that I have created one layer that is the white frame. The white frame is created by
drawing a rectangle with the rectangle tool
, making sure that my chosen colour is white.
On top of the white frame layer there is another layer that is the mat for the photo itself. The mat is created in
the same way as the frame
, but slightly smaller than the frame rectangle.
On top of that is the actual photo that I have dragged into my file. The photo is "clipped" to the photo mat. You clip by
hovering the mouse between the two layers so that you see a white square with a black arrow beside it and then holding down the Alt key while left clicking
. Doing it this way instead of cutting the photo to size means I can play with cropping, size, and placement of the photo in a non destructive way. The size of the mat stays the same.
Here I have hidden the photo mat and photo to show what the white frame looks like.
And here I have hidden the frame to show what it would look like to just have the photo mat and the photo.
As you can see the drop shadow is
applied to the frame layer
since that is the one that is on the bottom of the three layers.
I have been digi scrapping since 2007, so these things are like second nature to me. If you have other questions I would be more than happy to answer them as best I can. Just give me a shout here or on Facebook.
However, if you want to become proficient in digi scrapping I highly reccomend taking a class or two. I have been a very happy customer of
Jessica Sprague's
most excellent classes. She has state of the art videos, she explains everything very well (and she is funny too), and the kits that come with the classes are lovely. Her classes will give you a good foundation to build on.
Be well everyone, and just give me a shout if you need further clarification!