Hello and welcome to the Pixels & Co creative team bloghop!
You came here from my pal
Jenn's blog
.
Want to start from the beginning? Just go to the
Pixels and Co blog
!
The celebrations are in full swing and we are having a blast in the forum and gallery with challenges, games, and competitions at Pixels and Co! Have you joined in? If not, then please feel very welcome to take one of the awesome challenges in the forum! The
"Challenge me this"
one is brilliant, you will be challenged by the person posting after you in the thread. Or take the
"What colour are you?"
challenge! If you want to see what I created for these challenges, check out my blog post from yesterday.
The beautiful stuff you will be able to download on this bloghop have all been created with the absolutely stunning and huge collab kit by the Pixels & Co designers, Bermuda Triangle.
(Click the image to go to the shop)
If you want to pick up the kit for free you can follow the Pixels and Co designer bloghop starting on the P&Co blog,
HERE
!
So my contribution is two journaling cards (one 3x4 and one 4x6) and they look like this: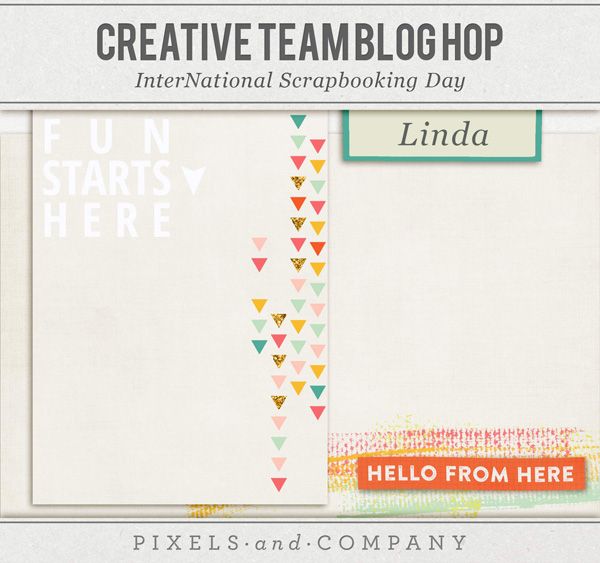 (Click on the image to download)
Your next stop on this bloghop is
Laura
.
Feeling lost? Here is the complete bloghop list:
Pixels & Company
Lynnette
Amy
Jenn
Linda
<-- that's me!
Laura
Barbara
Anna
Kelly
Mandi
Jen H
Erin
Jennifer E.
Carey
Kat
Rachel
Nettie
Becca
P&Co Forum
Feeling like there's money burning in your pocket? Well, fear not, dear friend, there is a
35% site wide sale
running until tomorrow (Sunday May 4). And as if that wasn't enough,
$25 order gets 40% off, $40 order gets 45% off, and $50 order gets 50% off
. Pretty much all around awesome, no?
So I'll see you over in the forums and galleries at Pixels and Co! Have a great day!