I'm in full summer mode at the moment. Of course, as I am typing this the rain is pouring down outside. Now that is typically Swedish summer for you! But we have had some great days lately and I am looking forward to more. This has found me in the mood to scrap all summer layouts!
So for as long as I can remember I have hated the beach and the water.
One
, I am very afraid of water (which is due to an incident when I was a kid) and will only swim if I know I can put my feet down and touch the ground. I will never, ever put my head under water.
Two
, I get sunburned very easily, and also got melanoma 10 years ago, so I don't want to be half naked in the sun.
Three
, I have hated the way my body looks since I was in my early teens, so I don't want to be half naked period.
This means I very rarely join in the fun when swimming is on the agenda.
I have been contemplating the situation for a while and have decided that I need to change this. I don't want to miss out because I have issues with cellulite and saddle bags. I don't want to feel bad about myself. I don't want to put focus on the less than stellar parts of my body. I don't want the kids around me to remember me as the bore who never played along, and I certainly don't want to set a bad example regarding body image. So I made this layout. And I bought myself a bikini and hit the pool.
(Supplies:
Best Summer Ever - At The Beach
,
Best Summer Ever Full Kit
by Mommyish,
A Story Captured Vol 7
by Anita Designs)
And even though there are no pictures of me in the pool, let's not go too far right away, this happened that night. The boys are such water animals, and they spent most of the afternoon and night splashing around.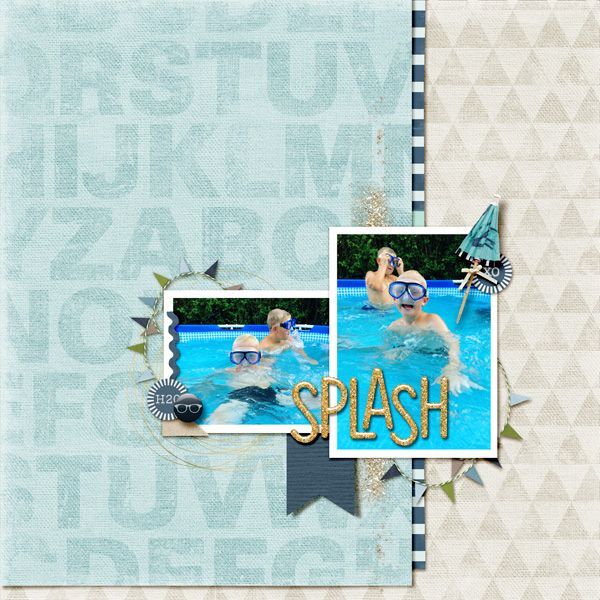 (Supplies:
DiSTRESSed Patterns 3
by Scotty Girl Designs,
Seaside Serenity
by Anita Designs,
Summerific Elements
by Creashens,
Jack Elements
by Laura Passage and Mommyish,
Tweedy
by Mommyish,
Bermuda Triangle (alpha)
by Gennifer Bursett)
I recently became lactose intolerant, which means that it's hard for me to find good ice cream out and about. This is a bit of a sad thing for me as I absolutely love ice cream. Especially the soft and fluffy kind you get in Italy. We did get an ice cream maker so that I can make my own, so I think I'm going to live. This photo is about a moment in the summer of 2013 when we visited with my sister and her boyfriend in Milano.
(Supplies:
Ice Cream card template set
by Kelleigh Ratzlaff,
Confectionary Papers
,
My Tribe
by Gennifer Bursett,
Essential Styles
,
Best Summer Ever At The Beach
by Mommyish,
Watercolor Overlays
by Celeste Knight)
I have never been good at lounging around, doing nothing. It literally crawls under my skin when I have nothing to do, even if it's just perusing Pinterest. But it's a thing that I need to work on, and what better way than working on it on a sunny day under an unbrella in the garden?
(Supplies: Becky Higgins Project Life Kiwi, Becky Higgins Project Life Coral, Hello Love by Karla Dudley, Some Flairs Vol 8 by Anita Designs, Best Summer Ever At The Beach by Mommyish)