We spent four days (well, three and a half really) in Barcelona just a couple of weeks ago. It was a few intense days with lots of walking, lots of picture taking, and lots of swearing over tourists. There was also good food and sangria. I thought I'd share the photos from our trip over the course of a few posts. Brace yourselves, there are a lot!
La Boqueria
We landed at the airport around 10.30 and got to the city about an hour later (taking the shuttle bus is super easy and quick). We knew that our hotel room wasn't going to be ready so we decided to go for lunch, and landed at
La Boqueria
. This place is like heaven and hell at the same time. It's an amazing market with all the food a person would ever want to eat. It is also shock full of people. Like tin of sardines full. It stressed me out!
It was very difficult to take photographs in there with so many people in all the aisles, and I only managed a few. The stall with the jamon (ham) was amazing. We joked that we should get one of each and jam them into our suitcases.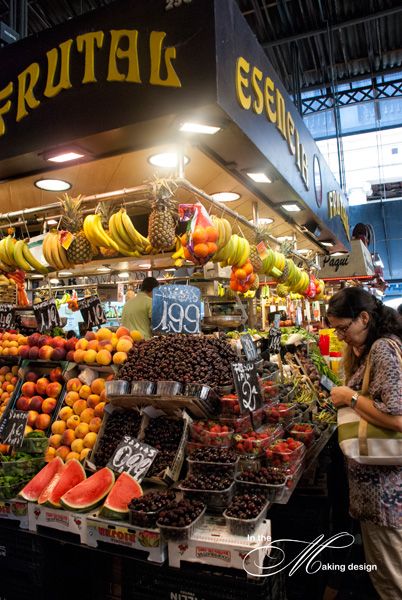 We decided on a fish place called
Kiosko
Universal
inside the market, mostly because there was a long line of locals waiting to be seated. We figured that if the locals want to brave the crowds to eat there, it has to be good. We had to wait for 20 minutes for a seat at the bar, but man was it worth it. Our server, who we think was the owner, was a bit surly but we both had the best squid we've ever eaten.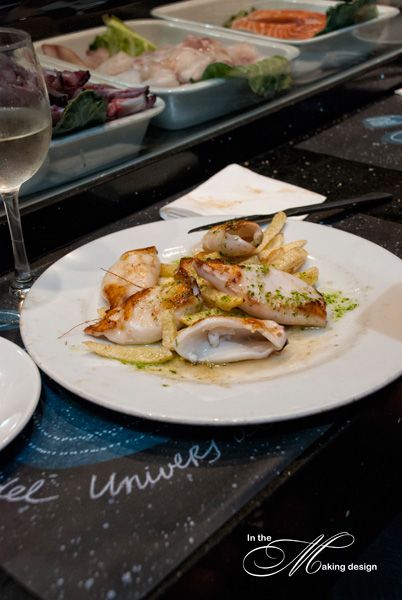 It was just a tiny place, with bar seating all around the sides, but they worked very efficiently, and it was a treat to sit there and watch them cook. It was equally interesting to see some of the other patrons stuff their face with dish after dish.
On our way back out of the snake pit, we found a corner of the market that was much calmer and I fell in love with the way the sunlight fell across the floor.
El Raval
We made our way through
El Raval
to check into the hotel. We had been warned that this was a bad part of the city, and to watch ourselves. I found it to be shabby and dirty, but charming and full of normal life. It has a very eclectic population; from skateboarders, to hippy artists, to muslim immigrants. The streets are lined with little cafes and shops selling everything from handmade jewellery and crafts to burkas to fruit to washing machines. I liked it a whole lot better than the parts full of tourists.
Our hotel,
Barcelo Raval
, was anything but shabby and dirty. Brand new, and very chic when it comes to decor. We had a very comfortable room but our favourite part was the 360 degree roof top bar. We spent a lot of time there on afternoons and late nights, and I loved the quiet, and the gorgous views of the city (more photos from there will come).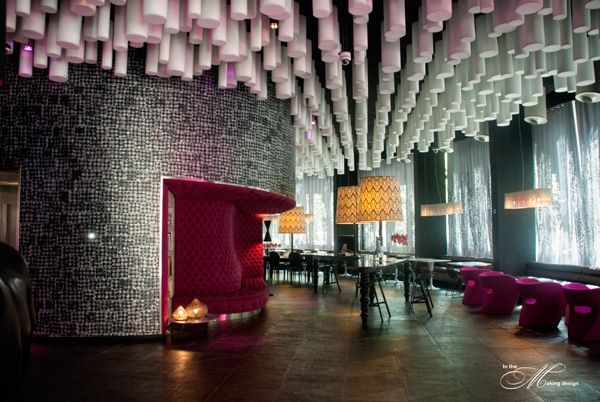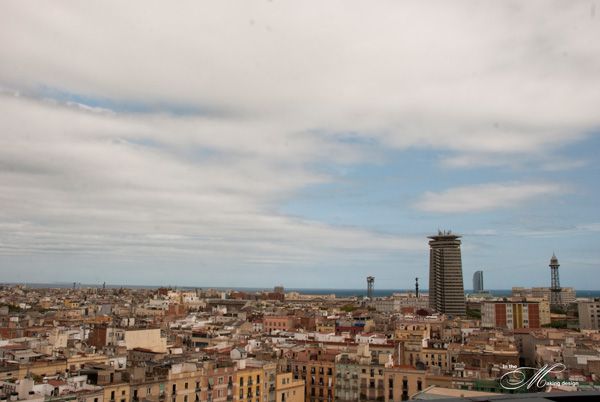 We spent the afternoon at the harbour, having drinks (including sangria) and doing a little shopping at a shopping centre. It was nice and relaxing, and who doesn't love shopping? I was happy to see that they had
Bershka
in Spain, which we don't have here in Sweden.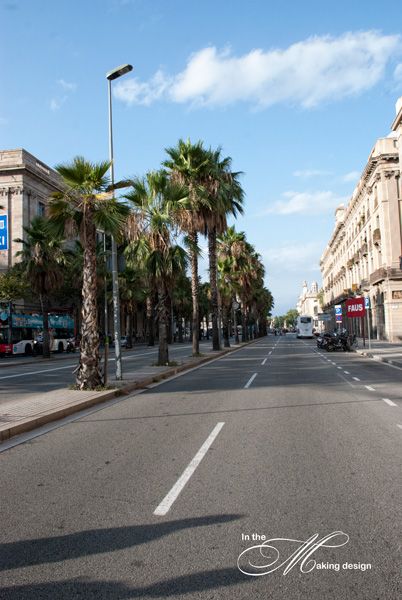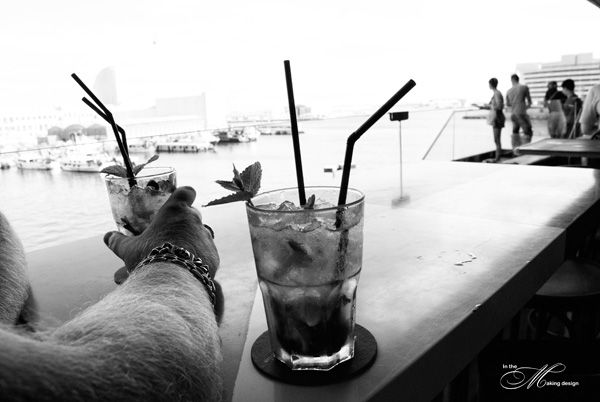 Barri Gotic
We spent the evening walking around
Barri Gotic
, enjoying the beautiful (but shabby) old buildings. Since we got there after the main tourist buses had left town, it was quite lovely, including seeing parts of the Roman walls, and listening to an opera singer by the cathedral.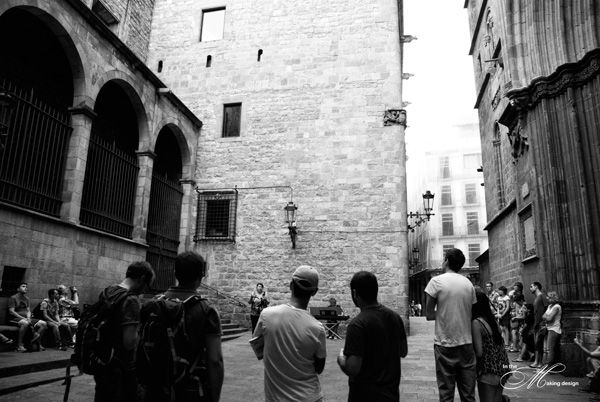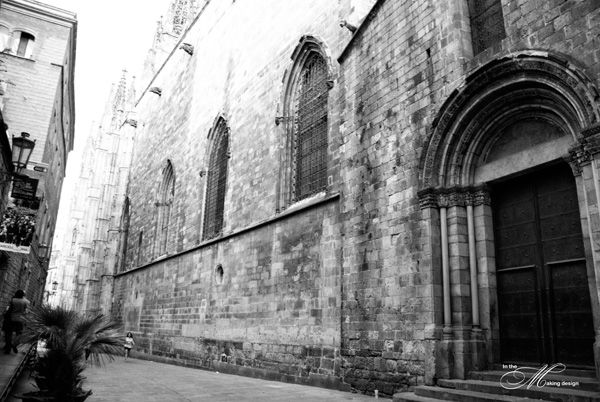 We had drinks at
L'Antiquari
in Placa del Rei, sitting outside on the square, doing some people watching. That square is really small and surrounded by the oldest medeival buildings in town. We both loved it.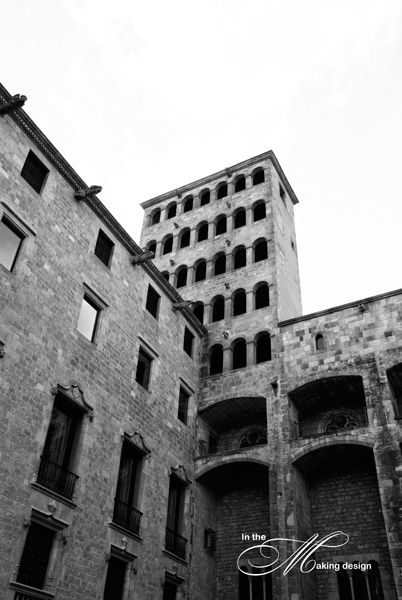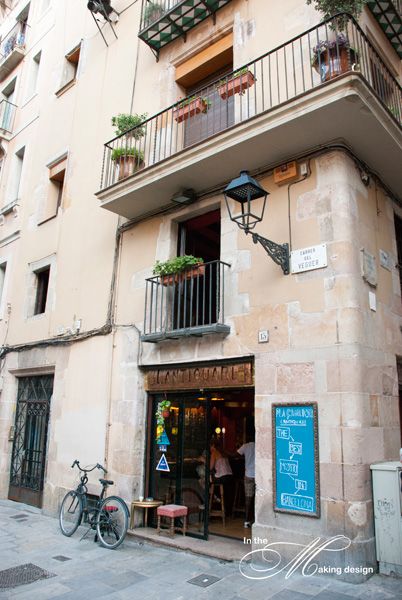 We had dinner in El Born, which is less shabby and more hipster, at
Sagardi restaurant
. It's a place that has Katalan tapas and Basque pintxos. They are very popular, and take no reservations, and again we had to wait for a table. The food is served along the bar that snails through the length of the restaurant and you simply take what strikes your fancy. Everything is served on/with a toothpick and once you're finished the waiter counts the toothpicks to figure out how much to pay. With me being on a restricted diet and all, I mostly had serrano but the husband was very happy.
(I am sorry for the lower quality of these photos; they were taken with my mobile phone)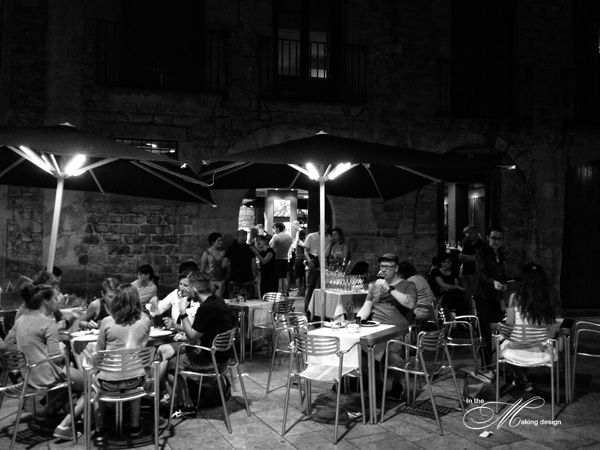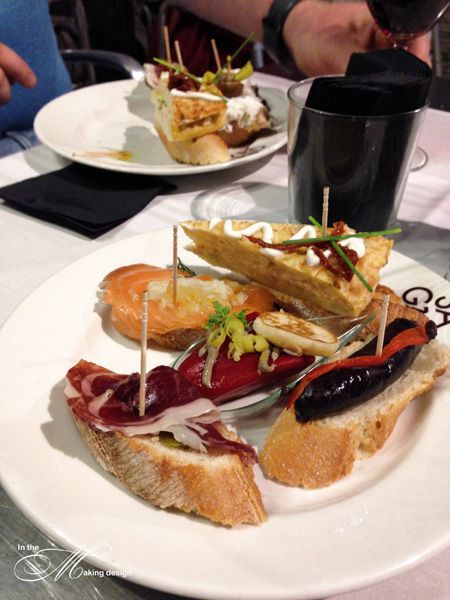 If you want to see more of our trip to Barcelona, you can do so here:
Day two
Day three